Subhash Chandra Bose is one of the most dynamic leaders of India's struggle of independence. He is popularly known as Netaji. He was born in Cuttack, in Orissa on January 23, 1897 to Janaki Nath Bose and Prabhavati Devi. His father was a famous lawyer and mother a religious lady. Among the fourteen siblings, he was the ninth child. Right from his childhood he was a bright student and was a topper in the matriculation examination from the whole of Calcutta province. He graduated from the Scottish Church College in Calcutta with a First Class degree in Philosophy. Influenced by the teachings of Swami Vivekananda, he was known for his patriotic zeal as a student. He went to England to accomplish his parents' desire to appear in the Indian Civil Services. In 1920 he appeared for the competitive examination and stood fourth in the order of merit. Deeply moved by the Jallianwalla Bagh massacre in Punjab, Subhash Chandra Bose left his Civil Services apprenticeship midway and returned to India.
After he returned to India, Subhash Chandra Bose was influenced by Mahatma Gandhi's views. He then joined the Indian National Congress and worked under the leadership of Deshbandhu Chittaranjan Das, who later became his political guru. He opposed the Dominion Status for India declared by the Congress under the guidance of the Motilal Nehru Committee. They were in favor of complete independence and nothing else. In 1930, during the Civil Disobedience he was sent to jail and released only after the Gandhi-Irwin pact was signed in 1931.
Subash Chandra Bose was exiled from India to Europe, he took advantage of this opportunity and tried to establish political and cultural ties between India and Europe by forming centers in the various capital cities of Europe. He was jailed for a year for not obeying the ban on his entry to India. Congress was elected in seven states during the general elections of 1937 and he was released. Defying the ban on his entry to India, Subash Chandra Bose returned to India and was again arrested and sent to jail for a year. After the General Elections of 1937, Congress came to power in seven states and he was released. Next year he was elected as the President of the Haripura Congress Session. He took a very stern decision and brought a resolution and asked Britishers to hand India over to the Indians within six months.
Following opposition to his rigid stand, he resigned from the post of president and formed the Forward Block. He fled to Germany via Afghanistan and tried to persuade Germany and Japan to cooperating against the British Empire. He then moved to Singapore from Germany in July 1943 and formed the Azad Hind Fauj (Indian National Army). The army comprised mainly of Indians who were prisoners of war. The army crossed the Burma border, and reached the Indian soil on March 18, 1944.
Japan and Germany were defeated in the Second World War and a result the INA could not fulfill its objective. On August 18, 1945, Subhash Chandra Bose was declared killed in an air crash over Taipei, Taiwan (Formosa). But there are people who believe that he is still alive and many Commissions were set up to find the truth but nothing could be found about his whereabouts.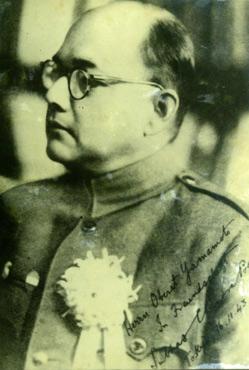 Let us talk about Netaji in Europe, and his outlook towards people of different religious and ethnic backgrounds.
In the 1940s, Subhas Chandra Bose gave up his earlier inhibitions about meat and other food restrictions and so on, but remained essentially the same man in terms of his values.
His biggest achievement in public life was to bring about the unity all of the religious communities of India: Hindus, Muslims, Sikhs and Christians. Mahatma Gandhi also brought about unity among Hindus and Muslims; but Subhas actually believed in the possibility of what he described as cultural intimacy among the different religious communities of India.
That is why he was very keen that the members of different religious communities should learn more about the religious faiths and practices of other communities; and on ceremonial occasions take part in the celebrations.
He felt that on Muslim festivals, Muslims may actually invite Hindus and vice versa.
Actually, I found it very moving to write the small passage that I have on the construction of a memorial to the fallen heroes of Indian National Army. It was designed and built by Cyril John Stracey, an Anglo-Indian officer of the INA.
Subhas Chandra Bose met him on August 15, 1945, and examined the designs for the memorial. He asked Stracey if the memorial could be completed before the British landed in Singapore.
"Certainly, Sir," Stracey replied, and with a salute and 'Jai Hind' marched off to build the edifice in record time. It would bear the INA motto Itmad (Faith), Ittefaq (Unity), and Qurbani (Sacrifice).
Subhas was really a very broad-minded man. He himself had been deeply influenced by Vivekananda. He himself was a devotee of the Mother Goddess.
But he never made a display of it. And in my book I have quoted SA Ayer, who said that Netaji never spoke his God, he lived Him. He married someone who was a Christian, a Catholic.
When he was going on his submarine voyage, the one companion he chose was a Muslim. When the INA Memorial had to be built, it was a Christian officer who was given the task.
So, he was someone who was able to both respect and transcend religious differences. And, when he writes to Emilie in March 1936, he says that he has forgotten all these differences of Indian and European and what I love is really the woman in you, the soul in you.
I, In this blog,dedicate this Collection Of Mine to all the Nethaji heroes...Nethaji is the True champ...I call him my Hero..
Dont forget These heroes..becoz these are True Heroes (Neither the Cricket player nor the bollywood actor)